FLYING COLOURS




Vibrant colours that bring energy to your Smartphone! Available in seven different colours, the RAINBOW is packed full of good cheer. Boosted by 1GB of RAM, it offers great fluidity to quickly switch from one application to another. The RAINBOW's five-inch high-definition screen displays a brilliant picture quality for authentic colours, just the way you like them.
COLOR THERAPY




With a variety of bright and flashy colours, or more classic in black and white, the RAINBOW'S good mood is contagious. The ergonomics of its moulded case is designed to make it extremely pleasant to hold. The RAINBOW is full of tonicity!
A BIG-SCREEN EXPERIENCE




The RAINBOW'S 5" screen provides real user comfort with increased image sharpness and faithful colour rendition. Get the most out of your favourite films and television series and relish your photos and applications in high definition.
FLUID, RAPID AND RESPONSIVE!




The RAINBOW is equipped with a quad-core processor running at 1.3GHz. Four cores enable the rapid implementation of tasks: navigation, video games, web and e-mail checking, all seamlessly thanks to the efficient distribution of tasks amongst the different cores. Its 1GB of RAM procures it even greater responsiveness and its 4GB of storage memory may be ex-panded up to 32GB via a micro SD card.
THAT'S IT, IN THE CAN!




The RAINBOW'S 8MP main camera is the best of companions, allowing you to capture your favourite moments with ease and succeed all of your shots. As for its 2MP front camera, it allows you to get everyone into the photo: you no longer need to ask a friend to take the photo, so squeeze up and say "cheese"!
User guides
You have lost the user manual of your phone? Luckily, we're keeping a copy...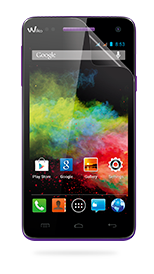 Protective films
Clip Ultra Slim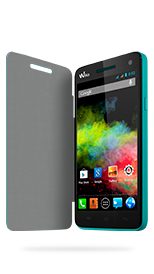 Folio support cover